DiversiTech Wet Switch Drain Pan Overflow Switch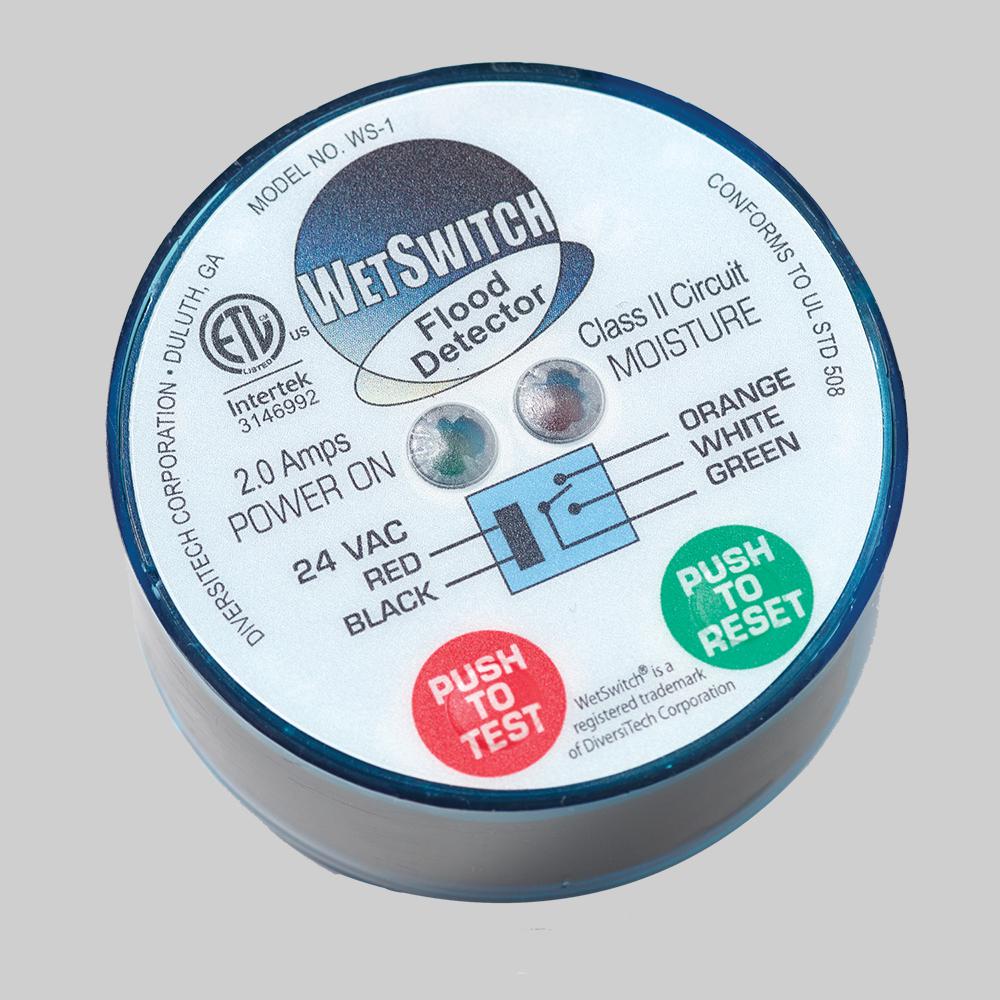 A solid state control designed to help prevent flooding, damage to carpets, walls, furniture, ceilings, etc. now has a built-in test and reset button for easier installation. Turns system off when detecting moisture due to condensate or drain leaks. One or two drops will cause Wet Switch to turn off a unit, alerting a serviceman to a moisture problem.
Features:
A must-have safety feature
Integral Feet - Integral feet raise the hydrophilic pad and sensor array off the drain pan slightly to prevent nuisance tripping and pan corrosion (metal pans only) from interfering with the sensor array
Hydrophilic Pad - A high tech polymeric fiber quickly draws water into the sensor array using proven capillary technology
Multiple Unit Connectivity - Multiple unit connectivity allows for multiple Wet Switches to be connected in series to adequately cover large drain pan areas
Standard 24AC Control - Power supply to the Wet Switch® is 24VAC, the standard power available on most air handler units. This makes hookup quick and easy. There is no need to run different power to the switch.
Double Throw Relay - The double throw relay allows for wiring to interrupt the system and to sound an alarm (by others) when moisture is detected
Solid State Electronics - Proven electronics prevent mechanical failure in an aggressive operating environment
Push to Test - The push to test button on Wet Switch® gives the installer a quick, easy way to test the wiring on their installation. Giving you the confidence the switch will work as designed, when needed.
Compact Package - This technology is packed into a hockey puck sized 3-5/8″ diameter by 1-1/4″ high cylinder. Furnished complete with 5-conductor 22AWG stranded cable, 6′ long.
Prevents expensive water damage and dangerous electrical situations by adding another layer of protection
Our Emergency Drain Pan Overflow Switch shuts off your heating and cooling system if water fills the emergency drain pan.
"Low Level" Carbon Monoxide Health Monitor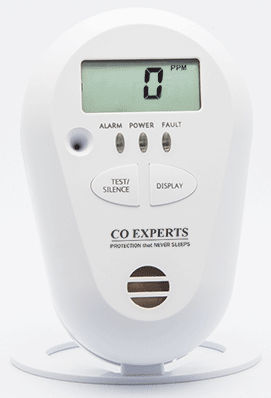 The CO EXPERTS model 2016 is considered by many one of the industries best "Low-Level" Carbon Monoxide Health monitors available to the consumer today. Its unique style allows for either wall mounting or portable use with the included free-standing attachment, and with a simple slide and click of its rear mounting plate the "sealed" lithium battery is engaged, ending your worries about replacing any batteries over the course of the units life.
Visual
7 PPM - 50 PPM displays current real time CO levels constantly
Over 50 PPM display reads "HI"
---
How much carbon monoxide (CO) is too much?
Bob Dwyer, Director or Training; COSA (Carbon Monoxide Safety Association)
www.cosafety.org "Every day is a carbon monoxide safety day!"The health effects can vary significantly due to age, sex, weight and overall state of health. U.L. 2034 Listed alarms do not give enough protection from chronic harmful levels of carbon monoxide. CO is measured in Parts Per Million or PPM; out of a million molecules of air, how many are carbon monoxide. The items listed with the symptoms in the chart below are for healthy people unless otherwise stated.
12,000 PPM - Death within 1-3 minutes
1,600 PPM - Nausea within 20 minutes, death within 1 hour
800 PPM - Nausea and convulsions - death within 2 hours
400 PPM - Frontal headaches within 1-2 hours; life threatening within 3 hours; UL 2034 alarms should sound within 4 and 15 minutes.
200 PPM - NIOSH (National Institute for Occupational Safety & Health Administration) A worker will not be exposed to more than this amount.
150 PPM - UL 2034 Listed alarms must respond within a range of 10 to 60 minutes if this concentration or higher is present.
70 PPM - If CO at this level for 60 minutes up to 4 hours, UL 2034 alarm should be sounding
50 PPM - Maximum average level for continuous exposure in an 8 hour workday per federal law, U.S. OSHA.
36-99 PPM - Excessive levels with foreseeable health hazards. Suggest a medical alert and health consultant especially if levels displayed are chronic conditions. Advise use of air packs. Ventilation required and source discovery testing is recommended.
35 PPM - 8 hour exposure TWA (time weighted average); NIOSHA (National Institute of Occupational Safety and Health Administration) of the CDC (Center for Disease Control).
25-35 PPM - Levels where fire department personnel wear breathing apparatus. Fire department begin evacuation of buildings at this level.
10-35 PPM - Marginal - Small children, elderly, and those suffering respiratory or heart problems are cautioned if these are chronic exposures concentrations. May increase heart stresses. COSA (Carbon Monoxide Safety Association) approved alarms & monitors begin alarming no later than within these concentration levels.
25 PPM - 8 hour TWA limit; ACGIH (American Conference of Governmental Industrial Hygienists)
9 PPM - Average concentration often measured around busy city streets & intersections.
1-9 PPM - It may be difficult to avoid those often occurring spikes in transient or chronic CO levels without life-style changes.
What are the symptoms of CO poisoning? Consult with your physician!
Carbon monoxide poisoning mimics many common illnesses, such as the flu and food poisoning. The following is a list of common symptoms:
Headaches
Disorientation
Depression
Loss of hearing
Respiratory failure
Dizziness
Loss of consciousness
Weakness
Muscle aches & soreness
Blurry vision
Painful discomfort
Memory disorders
Cardiac arrest
Repaid heartbeat
Nausea
Seizures
Vomiting
Coma
This list is not meant to serve as a diagnosis of carbon monoxide poisoning. It is meant to provide general information on poisoning symptoms. Oxidative stress causes a chain reaction in the body due to the interruption of oxygen intake and is most often not explored by the medical community though they may be presented with the symptoms many times every day. Carbon monoxide poisoning is best treated with supplemental oxygen or pressurized oxygen in a hyperbaric chamber where CO is forced out of the hemoglobin of the blood. The longer CO stays in the body, the more disruption in body functions and symptoms are likely. Carbon monoxide alarms can begin protection at levels that will protect more people more often; the current U.L. 2034 standard does not.
Attic Tent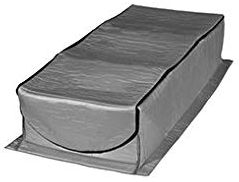 The HVAC systems in homes are designed for a closed envelope making air balancing with supply and return air, very critical. Every time these systems are operating they create a positive or negative pressure, thus forcing conditioned air out or drawing outside air in the home.
Features
The Attic Tent® is the ultimate attic access insulation cover ever invented (attic stairs, scuttle holes, knee-wall and full-size doors)
It also keeps out unhealthy insulation and dust particles from the attic
Benefits
The Attic Tent's primary design is to stop air infiltration between the home and attic, the most common medium for wasting costly residential energy, during both hot and cold seasons
Nexia Home Bridge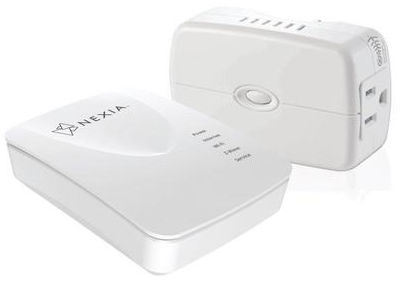 Features
As the hub of your home automation system, the Nexia Bridge-supported by Z-wave wireless technology, allows you to monitor and control locks, lights, thermostats and more-and even program them to work in conjunction with one another
Best of all, you can control all the Nexia compatible products from any Internet-enabled smart phone, tablet or computer
Benefits
The Nexia Bridge connects to your router allowing control whether at home or away, through a securely encrypted broadband Internet connection
It communicates wirelessly with over 200 other Nexia-compatible Z-Wave products from leading brands
The average Z-Wave communication range is 60-Feet to 100-Feet
Energy Savings and Comfort
Zoning
Features
Dampers in your ductwork automatically open and close as needed to deliver the proper air to each zone based on thermostat settings
Benefits
No more rooms that are too hot or too cold

Keeps money in your pocket by reducing your home's energy demand and saving on rising energy costs
Honeywell VisionPRO Wi-Fi 7-Day Programmable Thermostat
Features
The VisionPRO Wi-Fi 7-Day Programmable Thermostat connects to your Wi-Fi network
Program, monitor and manage from a smartphone, tablet or computer
Large touchscreen display
Seven-day programmable or non-programmable
Up to 3H/2C heat pump; 2H/2C conventional
Easy, plain language setup, no manual needed
Benefits
Energy savings on annual heating and cooling costs
Maintains consistent comfort with the highest level of accuracy
Effortless set-up and programming is all done on screen with ability to program each day separately
View or control your thermostat remotely
American Standard Humidifier
Features
A healthy way to add moisture to your home
This "green" humidifier delivers 50% more moisture than comparable humidifiers
Designed for homes up to 4000 sq. ft.
Bypass design with built-in damper has summer (off) and winter (on) positions
A manual control allows you to make your own humidity adjustments
So quiet, you'll barely notice it's running
Flow-Through Design helps control mineral buildup, minimizing maintenance
Resists rust and corrosion
Quick-access humidifier pad makes maintenance easy
Benefits
Improves air quality in the home, prevents dry skin and dry sore throats, protects wood floors and furniture
Resists rust and corrosion
AccuCleanTM Whole Home Air Filtration System
AccuClean is a highly effective system designed to eliminate airborne contaminants including pollen, most tobacco smoke, dust, mold spores, mildew, pet hair and more.
Features
Certificated asthma & allergy friendly by the Asthma and Allergy Foundation of America

Catches particles down to .1 micron in size

100 times more effective than a standard one-inch throwaway filter or ionic-type room appliance
Benefits
Delivers cleaner air and more of it

Removes up to 99.98% of allergens

8 times more effective than the best HEPA room appliance, delivers cleaner air

Reusable filter is easy to vacuum or wash
Air Scrubber Plus (Developed by NASA for the Int'l. Space Station)
Air Scrubber Plus is a seamless, fully integrated, 24/7 whole home air purification system.
Features
Air Scrubber Plus® is a revolutionary new system designed to help eliminate indoor air quality risks by reducing air pollutants, VOCs (chemical odors), cigarette smoke, dust, pollen, mold, odor- causing bacteria, and odors caused by pets and cooking
Air Scrubber Plus with ActivePure technology, makes cleaning surfaces, mopping up offending odors, and reducing harmful airborne contaminants as simple as turning on your furnace, fan, or air conditioning system.
Air Scrubber Plus not only purifies the air in your home, it reduces strong odors by naturally mopping up the particles that keep those odors lingering
Unlike air filters that are passive - Air Scrubber Plus actively treats the air by continually sending out ActivePure scrubbers throughout your home to greatly reduce chemicals, dangerous contaminants, mold, odors, and pollutants in the air
In only 30 minutes this technology reduces over 90% of the pathogens in the air - which is 50 times more powerful than typical HVAC filtration
Removes up to 99.9% of the harmful contaminants in your home
Aerus Laundry Pro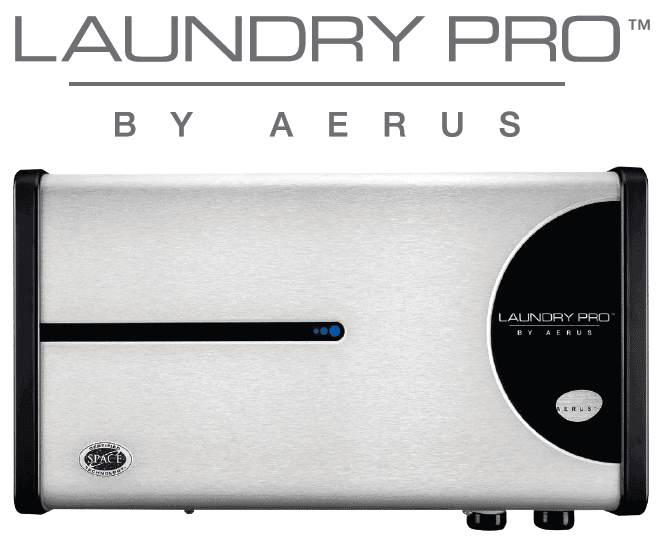 Laundry Pro combines the power of our revolutionary, exclusive Active Pure Technology with the cleaning action of activated oxygen to lift dirt and grime away from the fibers of fabric and prevent the growth of odor-causing bacteria. Laundry Pro is an amazingly effective code water laundry system designed for residential use.
Features
No need for detergent - Oxygen, peroxides, and other gases bubble into clothing to lift away dirt and odors
Innovative Technology for Really Clean Laundry - The ActivePure Technology built into each Laundry Pro is based on a variation of the technology originally developed for use on the International Space Station and is recognized as exclusive Certified Space Technology by the Space Foundation.
Benefits
No maintenance, better for sensitive skin and Earth-friendly
Laundry Pro keeps clothes looking their best with the cleansing power of oxygen
Better for Sensitive Skin- Laundry Pro also helps eliminate the itching and redness caused by allergies due to detergents embedded in clothing
Whiter whites, brighter colors - Laundry Pro keeps clothes looking their best with the cleansing power of oxygen
Earth Friendly - Cold water only and no detergent bottles to throw away make Laundry Pro a better choice for cleaning clothes while protecting the planet
Easy to install - Laundry Pro connects to your existing washing machine using standard hoses; no modifications or additional plumbing is required