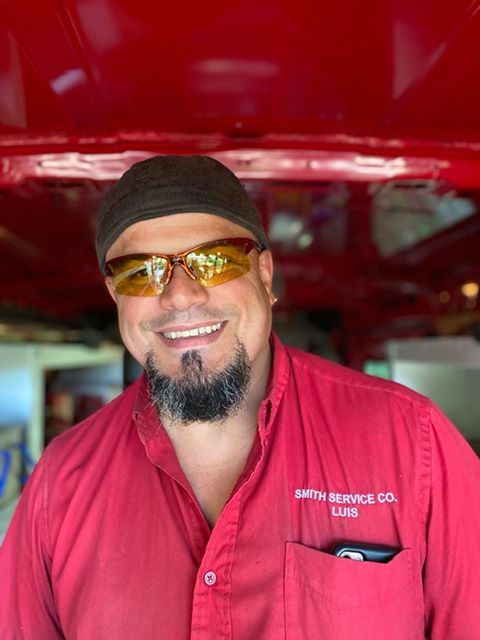 Luis
6 Reviews
Air Conditioner Repair in Lawrence, KS 66044
"Our air conditioner went out when it was in the 90s with a heat index over 100, I called Smith Service Company and Christina was super nice on the phone to make an appointment the same day. Luis was the Tech that came to our house and he was amazing!! He diagnosed the problem very quickly and was able to fix the problem the same day with the part on his truck! Luis was super knowledgeable and very very friendly. If you want a quality company that doesn't charge an arm and leg for repairs this is your company!!"
– Katy B.
Air Conditioner Installation in Lawrence, KS 66044
"From the phone call with Christina to the tech coming out to my house the Smith Service Company has always been super friendly. All the techs are very knowledgeable and are always willing to go the extra mile. I would recommend the Smith Service Company for any and all HVAC needs."
– Kathy S.
Heat Pump Maintenance in Baldwin City, KS 66006
"I won't call anybody else. Shawn, Levi, Ryan, Louis and the entire staff are friendly, helpful, and honest."
– Sarah F.
Heat Pump Maintenance in Baldwin City, KS 66006
"One day I was in the basement by chance and I saw a flashing light on the unit. Not knowing what to do I called Mr. Smith, who had Louis over at our house within the hour. Louis was very professional and polite. He took care of our issue and was very patient with my extremely hyper puppy. There's literally no one better in the area. Trust me. I've lived here my whole life."
– Regan S.
Furnace Repair in Baldwin City, KS 66006
"Luis came out and got everything taken care of in a very timely manner. I highly recommend Smith…"
– Sherry S.
Furnace Repair in Lawrence, KS 66049
"Luis was awesome. Friendly, knowledgeable, respectful, and a good guy. Diagnosed the problem and the furnace was up and running in very short order. Smith Service Co., responded to our call within a day (during peak season), worked with us when other companies were "to busy". Your best choice is Smith Service Co."
– Mark J.
---
The Smith Service Company proudly provides HVAC service to Baldwin City, De Soto, Eudora, Gardner, Kansas City, Lawrence, Olathe, Ottawa, Tonganoxie, and the surrounding Kansas communities. Visit our service area page for more coverage details, call us at 785-594-8800, or request service online today.